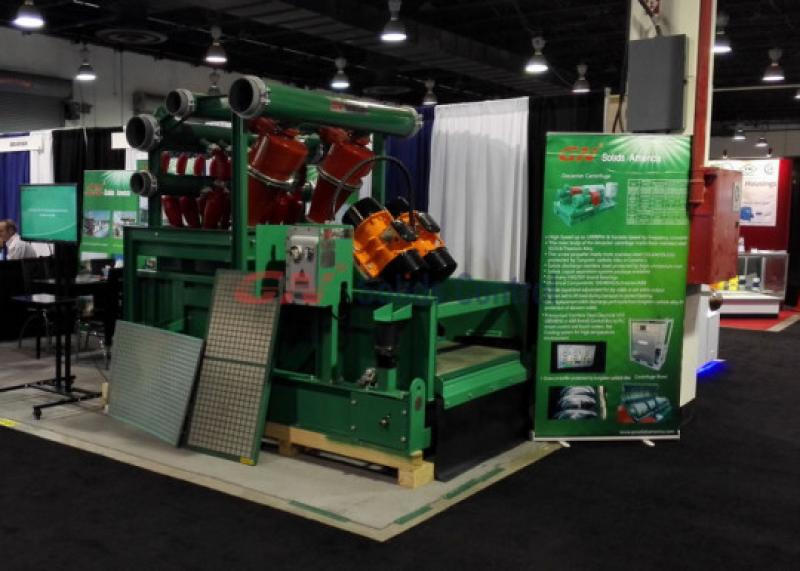 GN Solids America, it is the branch company of GN Solids Control Company Limited. It is located in Houston Texas. With its own office building and warehouse.
GN Solids Control and GN Solids America took part in 2015 OTC oil show with great success. The head company GN Solids Control takes its latest design drilling waste management equipment (high speed decanter centrifuge, vertical cuttings dryer) for the show. And GN Solids America show the mud cleaner separator machine for the OTC oil show. Mud cleaner is a 3-in-1 machine, with the function of desander, desilter, and a under flow shale shaker.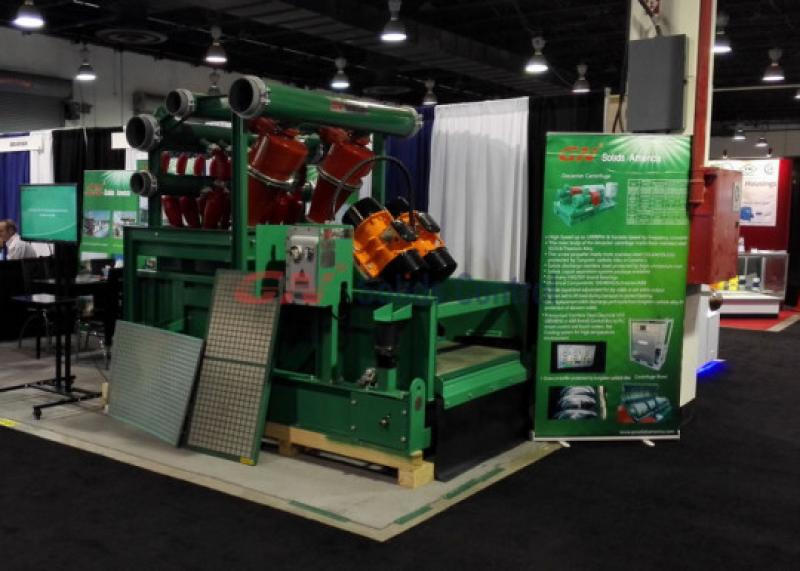 GN solids control mud cleaner for oil and gas drilling showing on OTC
1) Mud cleaner model: GNZJ594E-2S12N
It is the combination of under flow shale shaker GNZS594E, a 2-cone desander, and 12-cone desilter.
2) Capacity of the mud cleaner: 240m3/h (max.)
The capacity of mud cleaner depends on the desander cone and desilter cone capacity. The smaller one is the treating capacity of the whole treating capacity.
Desander cone and desilter cone is on D100 separation machine. There will be some amount of useful mud discharged together with dirty mud. So the function of underflow shale shaker is to further treat and recovery mud and dry the solids discharge.
Some jobsite may use desander or desilter with not under flow shale shaker to save cost. But the performance is surely not as good as the combined one.
3) Feeding pipe size of the mud cleaner is 6'' and the output size if 8''. GNSB8*6 centrifugal pump is mostly used to feeding for the desander and desilter.
4) Shaker screen of the GNZJ594E-2S12N mud cleaner: the under flow shale shaker is a 4-panel shaker with long shaker deck. It can make the solids more dryer. The shaker screen is pretention type, and mounted with wedge for fast screen changing.
5) GN patent design for Synchronous adjusting of the deck angle. When the operator adjust shaker angle at any side, both sides will be up or down with exactly the same angle. It saves time of jobsite people and easy for operation.