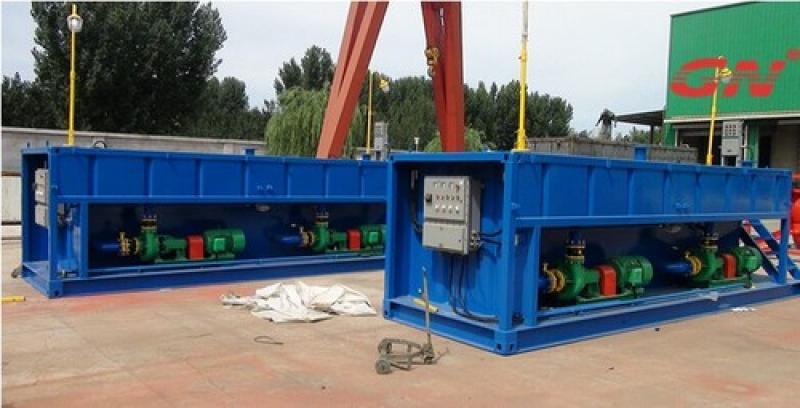 GN Solids Control is world famous manufacturer for mud recycling system for HDD, CBM, piling, underground instruction, trenchless, dredge slurry separation, etc…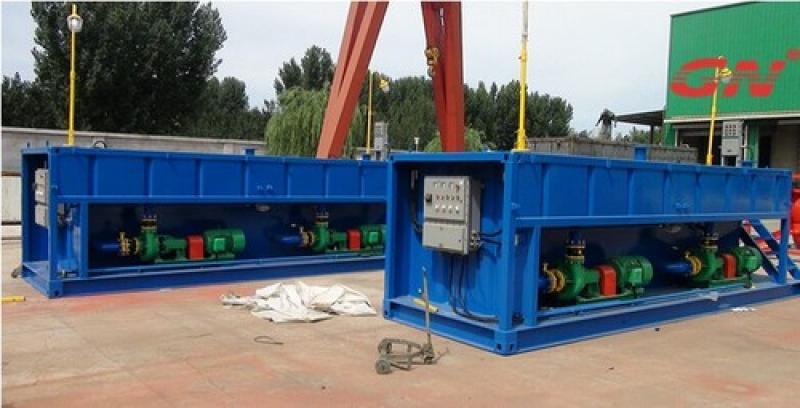 GN Solids Control also offers customized solution per customer's condition. A customer request 500GPM mud system for HDD rig. Below are their requirements on equipment for the 500GPM mud system. GN Solids Control gives solution relatively to optimize the mud system for HDD rig:
1) Customer request on 500GPM mud tank dimension: Mud tank to same as 20 ft standard O.T. container.( Standard frame with container corners for transport on containers vessels and for quick lifting)
GN Solution on the 500GPM mud system tank dimension: It is no problem for exactly same dimension with 20ft container. But GN recommends the tank with a smaller width: 2000mm in order to put into container for shipment.
2) Tank compartment for the 500GPM mud system: Divide the 20 ft mud tank to three chambers – (1) Shale shaker chamber, (2) De-sander chamber, (3) Desilter chamber
GN confirms the 3 chamber of the 500gpm mud tank system
3) Customer request to install bigger shale shaker model GNZS594E with 616 GPM.
GN team confirms the big shaker for 500GPM mud system.
4) Furthermore, customer request install 2 Nos. of big power pump 6×5 centrifugal pump with 45 Kw motor.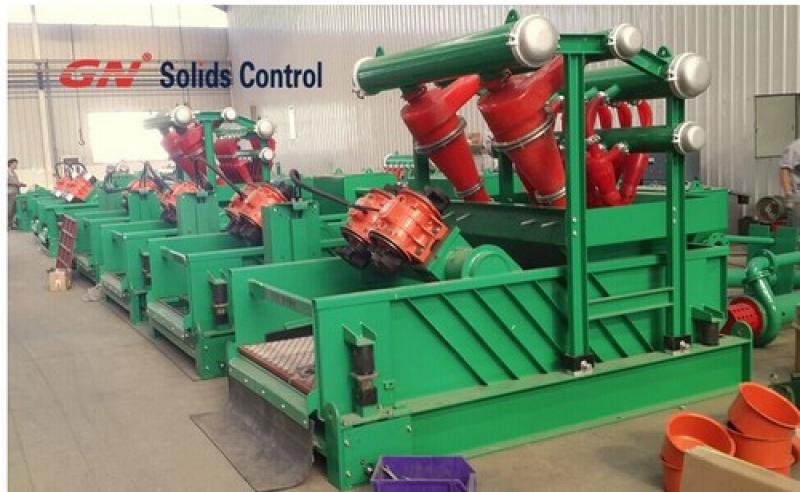 And install big capacity mud cleaner (shaker + 2 nos. of de-sander + 12 Nos. of desilter) model GNZJ594E-2S12N with 1056 GPM capacity.
Per the big centrifugal pump and big capacity mud cleaner, GN engineer give solution that: connection shale shaker with mud cleaner shaker with distribution box, controlled by valve, customer can choose to use 1 shaker or 2 shakers. In this case, the mud system can extend to be with 500GPM capacity or 1000GPM capacity.
During 500GPM capacity, the user blocks half of desander cone and half of desilter cone for a better hydraucyclone separation.
5) Regarding mixing system, as customer already have some mud tanks locally, GN offers a separate jet mud mixer for option. Customer can chose it to match with its local mud mixing tank. Or connect the shale shaker tank with its original mud tanks.
The system is easy to shift between 500gpm and 1000gpm capacity. Customer is very happy with professional engineering team of GN Solids Control.
If you have interest on above 500 / 1000 GPM HDD mud system, or you have any special request on no-dig compact mud recycling system, you can contact GN group freely for more information.