The screw pump stands out as the optimal apparatus for supplying slurry to centrifuges due to its unique features in a waste fluid treatment system. It avoids shearing or mixing the slurry, maintaining a low internal flow rate along the shaft, and ensuring consistent capacity, and stable pressure without causing vortices or stirring. Its composition revolves around two distinctive geometric components: the screw shaft (rotor) and the screw sleeve (stator). These elements work in tandem, generating extrusion that guides the slurry along the shaft.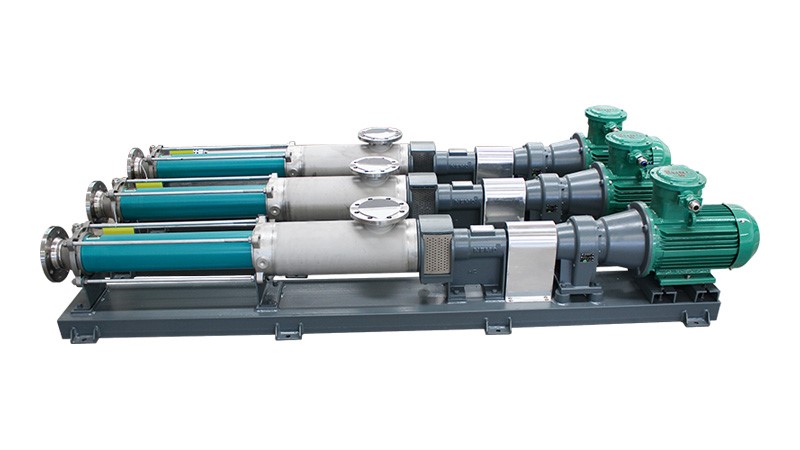 GN Solids Control is a leading screw pump supplier that our screw pumps boast enhanced durability and reliability compared to most Chinese-made counterparts Crafted with components from leading German brands and assembled in China. Through strategic agreements with NETZSCH, we can provide these pumps at a more cost-effective price than the official site.
Among the favored models is the GNG30B-075C, catering to the GNLW363D centrifuge, boasting a flow rate of 30.3/h, a 7.5kW motor, and DN100 inlet and outlet specifications.

When opting for a screw pump, selecting the right model is crucial for optimal performance. To tailor the choice to the specific physical and chemical characteristics of the media and operational requirements, we encourage users to submit pump operation data. Our team of professionals can then recommend a suitable selection, which is subject to customer confirmation.
The model selection process requires essential operational data:
Transport Medium: Name, corrosiveness, abrasiveness, viscosity, solid content, working temperature.
Operating Parameters: Flow rate or range, maximum pressure, continuous or intermittent operation.
Installation Environment: Horizontal or vertical orientation, fixed or mobile setup, special requirements for connecting pipelines, electrical systems, and explosion-proof protection.
As a progressing cavity pump, the screw pump consists of a helical rotor and stator. The rotor, featuring a large pitch, depth, and a specific cross-section, works in conjunction with a stator with a two or three-start thread, allowing continuous movement of the medium from the inlet to the outlet.
When in need of a centrifuge and feed pump, we recommend choosing the screw pump as your feeding pump. For further information, kindly reach out via email to samuel@gnsolidscontrol.co.