Drilling solids control systems are essential for the safe and efficient drilling of oil and gas wells. These systems remove solids, such as cuttings and sand, from the drilling fluid, which helps to prevent wellbore problems such as stuck pipes and lost circulation.
One of the key components of a drilling solids control system is the mud agitator.
The mud agitator is responsible for mixing the drilling fluid and keeping the solids suspended in the fluid. This is important because it ensures that the solids are evenly distributed throughout the fluid, which helps to prevent them from settling on the bottom of the wellbore and causing problems.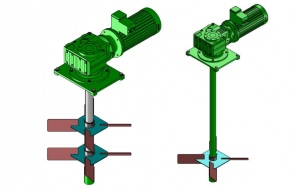 Mud agitators come in a variety of sizes and designs, but they all work on the same basic principle. The agitator has a rotating shaft that is connected to a series of blades. The blades spin inside the drilling fluid, creating a vortex that mixes the fluid and keeps the solids suspended.
Here is a brief introduction of the agitator motor: Click here.
GN Mud agitators are an important part of drilling solids control systems. They help to keep the drilling fluid more active, which makes cuttings of silt and sand pass the solids control system without being precipitated onto the tank bottom.
If you want more information on GN mud agitators, please contact me with samuel@gnsolidscontrol.co